Welcome! I'm Nina from Slovenia and ninaditto.com is my blog launched in 2017. Even though this blog is a fresh start for me, I have been around the digital-cosmetic-beauty community for some time. In 2007 I have launched one of the first ingredient-oriented cosmetics forum called Ars Cosmetica that later developed into a website with articles about cosmetics, ingredients, health and beauty news. In 2016 me and my friend Gabi (blogger and back then helping hand on Ars Cosmetica) somehow mutually decided that soon it will be time for the birth of my blog:)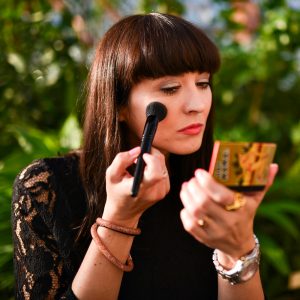 I'm a beauty products lover and my blog will be mostly ingredients oriented, but I also enjoy to combine my passion for fashion, shoes, and all-beauty with more practical day-to-day cosmetics topic.
I have a master's degree in pharmacy (M.Pharm.) which helps me to dig deeper into specific cosmetic formulations and get to know as much as possible about the products on a more professional level.
I have been working in a cosmetic company for 5 years, which I enjoy very much and though I really like to sleep in the morning, I m still quite excited every day to go to work there. In my career I gained some experience working in Pharmacy, writing articles for different magazines and doing regulatory work in cosmetics as a regulatory affairs intern at Chemical office of the Republic of Slovenia. Also one important fact: I'm a huge animal lover and I have two cat babies that are all grown up:)
For the lovely pics on my blog and social media, credit goes to the photographer Anže. Visit his website and Instagram to check out some fabulous photos from different events and corners around the world.
And still, my first helping hand for all the technical support on my blog and social media is Gabi. You are probably already familiar with her blogging, but just in case you are not, check out Parokeets.
If you want to get in contact please e-mail ninaditto.com@gmail.com