At first, Clarins Instant Light Lip Comfort oil impresses with a thick oily formulation in a stylish bottle. Then it surprises with a much larger applicator than I am used to using with similar lip care products or lip glosses. Lip Care Clarins Instant Light Lip Comfort Oil in the shade 01 honey is yellow in the bottle and the lips are colorless after application.
The applicator is very convenient and easy to use and the formulation leaves a gentle caring feel on the lips. It has a very pleasant smell. For my taste, most of the Clarins skin care products have an above-average and just gorgeous smell  … and this one is no exception. It works instantly on the lips – deeply moisturizes and gives softness.
It works instantly on the lips – deeply moisturizes and gives softness
It also has long-term benefits and significantly improves the condition of dry or cracked lips. After the application, the formulation absorbs well, but it gives a little sticky feeling that it still not uncomfortable for me. After regular use, lips appear more beautiful then they would using only usual colorless glosses or balms.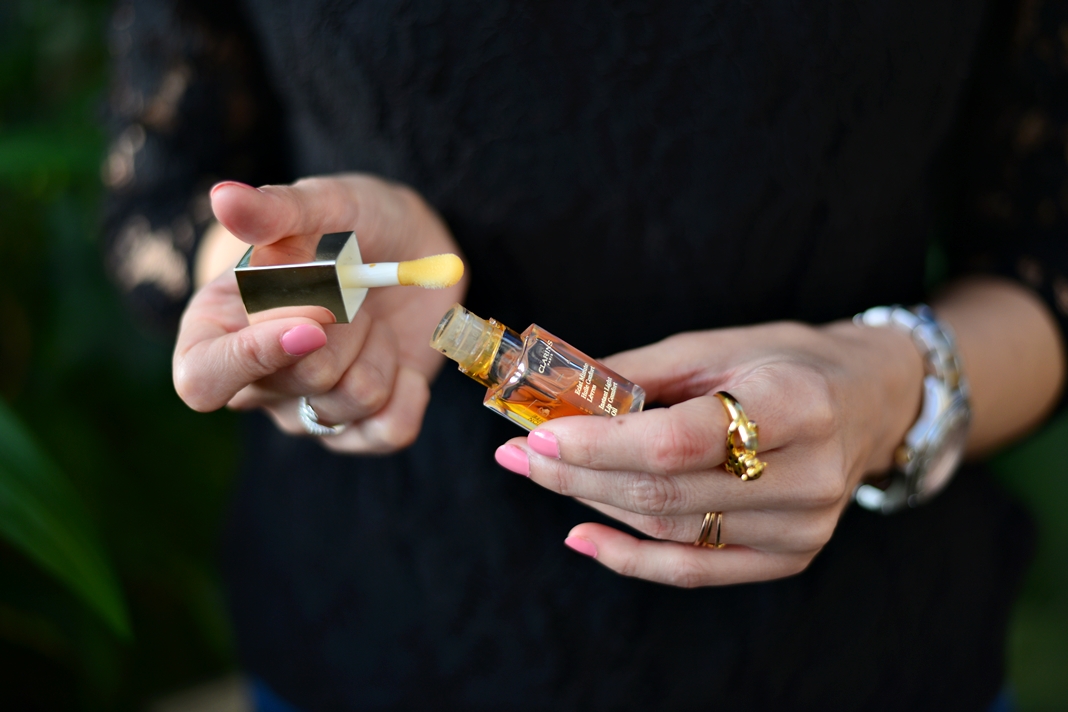 The formulation is infused with rich and highly beneficial natural oils like jojoba, hazelnut, plum and sunflower oil. Vitamin E and rosemary extract are added as an antioxidant, and the pepper extract is added to accelerate the blood circulation of the lips, adding a "plumping" effect without an unpleasant burning sensation. Among the ingredients, we can find ammonium salt of the glycyrrhizic acid derived from the licorice. The licorice is known for its soothing effects on the skin, and its derivatives have nourishing properties.
KEY INGREDIENTS/TEXTURE/EFFICIENCY
ingredients pluses: jojoba, hazelnut and plum oil, vitamin E, rosemary and pepper extract
ingredients minuses: none
texture: thick and oily, naturally yellow
efficiency: excellent moisturizer, feels a little sticky immediately after application
I recommend to anyone who is still hunting for a great colorless lip care product and to anyone who wants to have excellent natural care for the lips in extreme weather conditions. I prefer to use it as a night care for my lips, as a nourishing prep for a next-day lipstick.
INCI: Polyglyceryl-2 ISO-Stearate/Dimer Dilinoleate COP-Lymer, Dilinoleic Acid/Propanediol Copolymer, Simmondsia Chinensis Seed Oil, Corylus Avellana Seed Oil, Prunus Insititia Seed Oil, Parfum, Vanillin, Tocopheryl Acetate, Ammonium Glycyrrhizate, Capsicum Annuum Fruit Extract, Helianthus Annuus Seed Oil, Rosmarinus Officinalis Leaf Extract.
Photo: Anže Buh