Cleansing oil and oil makeup removers are not new in the cosmetic world, but in the recent times, they are gaining in importance. In addition to the oils that are applied to the skin with a cotton pad and remove makeup and impurities, the oils that are rinsed with water are increasing in popularity. These formulations, in addition to the mixture of different oils and other lipid ingredients, also contain emulsifiers that allow them to rinse off well in contact with water. I checked ingredients in three products that are a mixture of oils and claim cleaning & makeup removing: Balea Cleansing oil 100 ml, Afrodita Almond natural oil for conditioning and cleaning 150 ml and Almond oil with a vitamin complex for care and cleaning 90 ml. All three are available at dm drugstore in Slovenia.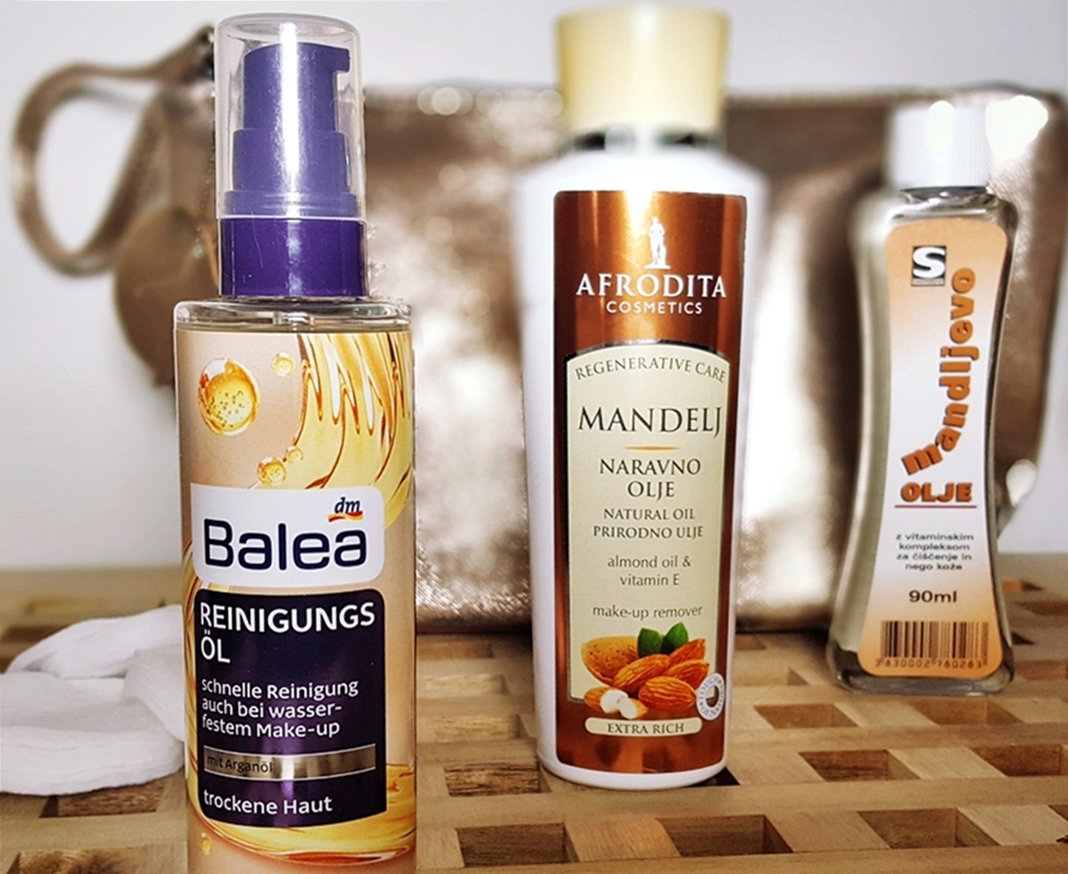 Balea Cleansing oil for removing makeup is one of the "newer generation" products that are rinsed off with water after applying it to the face. It contains natural oil like sunflower and argan oil and PEG-20 glyceryl triisostearate as an emulsifying agent that allows the oil to be converted into a mildly cleansing emulsion when it comes into contact with water. After rinsing it doesn't leave any oily residue on the skin. In addition to the aforementioned natural oils, there are also three nourishing lipid ingredients. It is free of preservatives parabens, is without BHT, which is a common ingredient in oil formulations and it is also without paraffin oil.
KEY INGREDIENTS/TEXTURE/EFFICIENCY
ingredients pluses: sunflower and argan oil
ingredients minuses: none
texture: oily, slightly yellowish, without fragrance
efficiency: gently cleanses without leaving oily residues, does not dry out the skin and leaves a nice soft feeling, also suitable for sensitive skin and for removing makeup around the eyes
INCI: Helianthus Annuus Hybrid Oil, Isopropyl Palmitate, Isopropyl Myristate, PEG-20 Glyceryl Triisostearate, Ethylhexyl Stearate, Tocopherol, Argania Spinosa Kernel Oil.
Afrodita Almond Natural Oil is a mixture of oils and is used as a makeup remover without rinsing. As a makeup remover, it is applied to the face and wiped off with a with a cotton pad. It doesn't contain only almond oil, which is not even claimed on the product – the product belongs to their Almond line. In addition to almond oil, it contains sunflower oil and rapeseed oil, and also another nourishing lipid ingredient is added. It is free of parabens, BHT and paraffin oils. It contains vitamin E and the rosemary extract is added as an antioxidant. The perfume is added, but it is very mild.
KEY INGREDIENTS/TEXTURE/EFFICIENCY
ingredients pluses: sunflower and argan oil, rapeseed oil, vitamin E, rosemary extract
ingredients minuses: none
texture: oily, with mild perfume
efficiency: removes makeup from the face, soften the skin; because it does not rinse, it is necessary to keep in mind that it will leave some oily residue on the skin
INCI: Prunus Amygdalus Dulcis Oil, Helianthus Annuus Seed Oil, Isopropyl Palmitate, Tocopheryl Acetate, Parfum, Rosmarinus Officinalis Leaf Extract, Brassica Campestris Seed Oil. 
Almond oil with a vitamin complex for care and cleansing contains almond oil, but the paraffin oil is in higher concentration regarding INCI ingredient list. The perfume is high on the list of ingredients and it also contains five additional fragrances. Although the smell is quite strong for me, it is pleasant, I would describe it as a "classic nourishing smell". Linoleic and linolenic acid are added to the formulation, both welcome ingredients for the care of dry skin. Vitamin E and A belong to the "vitamin complex" in the name of the product. Sadly, it contains a bunch of parabens: methylparaben, ethylparaben, butylparaben and propylparaben, which are better to be avoided.
KEY INGREDIENTS/TEXTURE/EFFICIENCY
ingredients pluses: almond and soya oil, linoleic and linolenic acid, vitamin E and A
ingredients minuses: paraffin oil (too much of it), four parabens in the formulation, too many added fragrances for sensitive skin
texture: clear, oily
efficiency: removes makeup from the face, leave some greasy residue on the skin, which is normal for that type of formulation, but anyway oily residue is more noticeable here than in Afrodita Almond oil
INCI: Paraffinum Liquidum, Prunus Dulcis, Parfum, Aqua, Butylene Glycol, PEG-40 Hydrogenated Castor Oil, Linoleic Acid, Linolenic Acid, Tocopheryl Acetate, Retinyl Palmitate, Glycerin, Soya Oil, Phenoxyethanol, Methylparaben, Ethylparaben, Butylparaben, Propylparaben, Tocopherol, Linalool, Coumarin, Citral, Isoeugenol, Cinnamyl Alcohol
CONCLUSION
Balea Cleansing oil is for me a very pleasant surprise – for the price of 1.99 € you will get an advanced, effective and ingredients wise very good facial cleansing product. Also suitable for sensitive skin and will most certainly stay on my bathroom shelf. Afrodita Almond oil, which costs € 5.49, I will prefer to use as a body care product, rather than for removing makeup. Given the fact that I am a user of contact lenses, I do not like to use oil products around my eye area anyway. S Pharmachem Almond Oil, which is priced at a low price of € 1.99, does not, in fact, passes "my ingredients test", despite having some ingredient pluses. Due to the majority of the paraffin oil in the formulation and bunch of parabens, it will go off of my shelf.